Marbella is one of the most charming cities on the Costa del Sol. During the summer, it acquires a special color: the streets are full of visitors from all over the world, the air smells of the sea, and the restaurants present delicious gastronomy. Do you want to enjoy a dream day in Marbella after playing golf? Don't miss out on what we have to offer.
A plethoric morning at Los Naranjos Golf Club
Los Naranjos Golf Club is characterized by a wonderful fusion of nature and play. During the morning, the sun illuminates the golf course with its range of warm colors showing spectacular views. To regain energy, you have the Hacienda Los Naranjos restaurant, led by the Chef Geoffrey Sacchi, who prepares an exquisite gastronomy of Scandinavian flavors.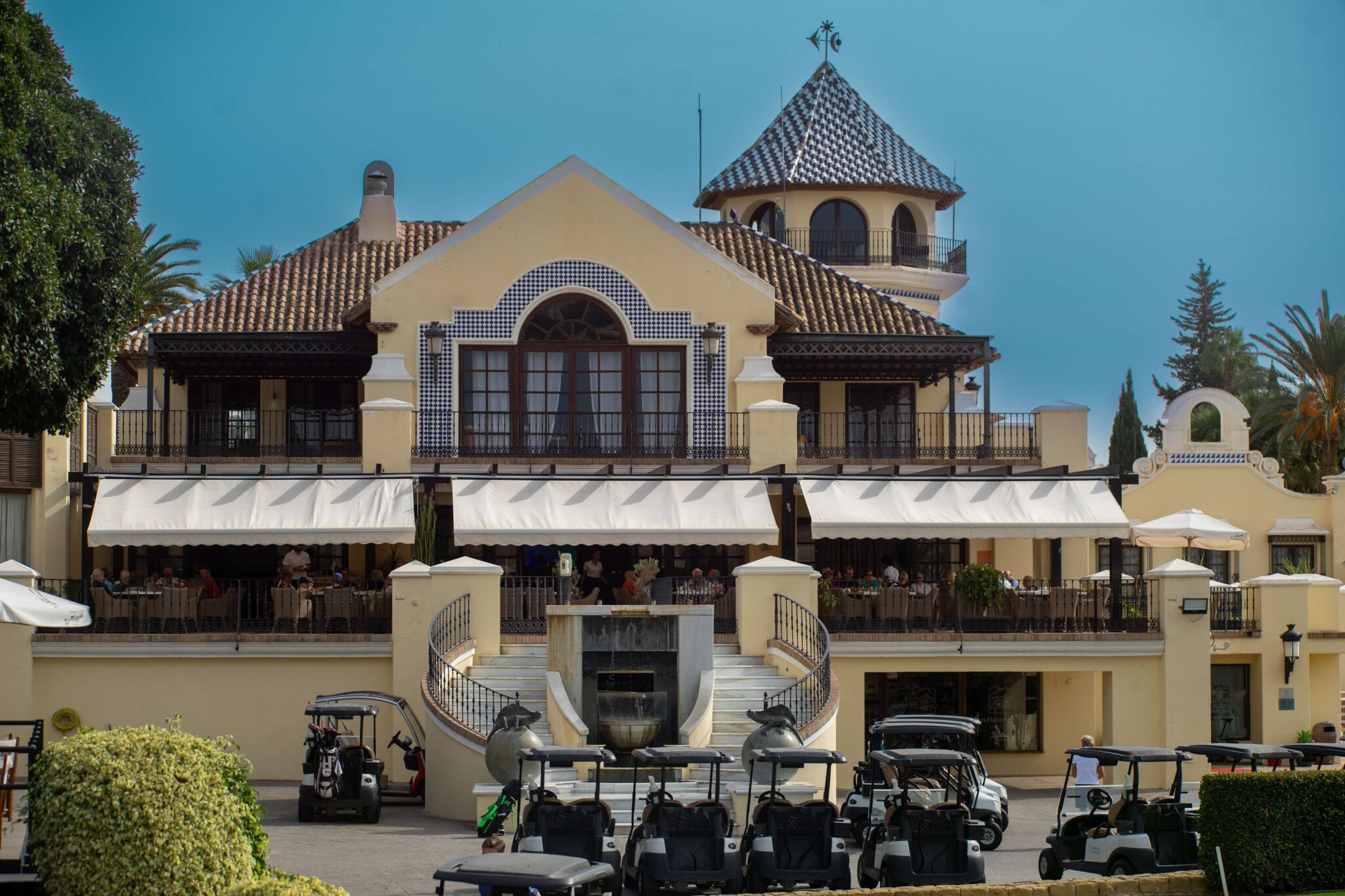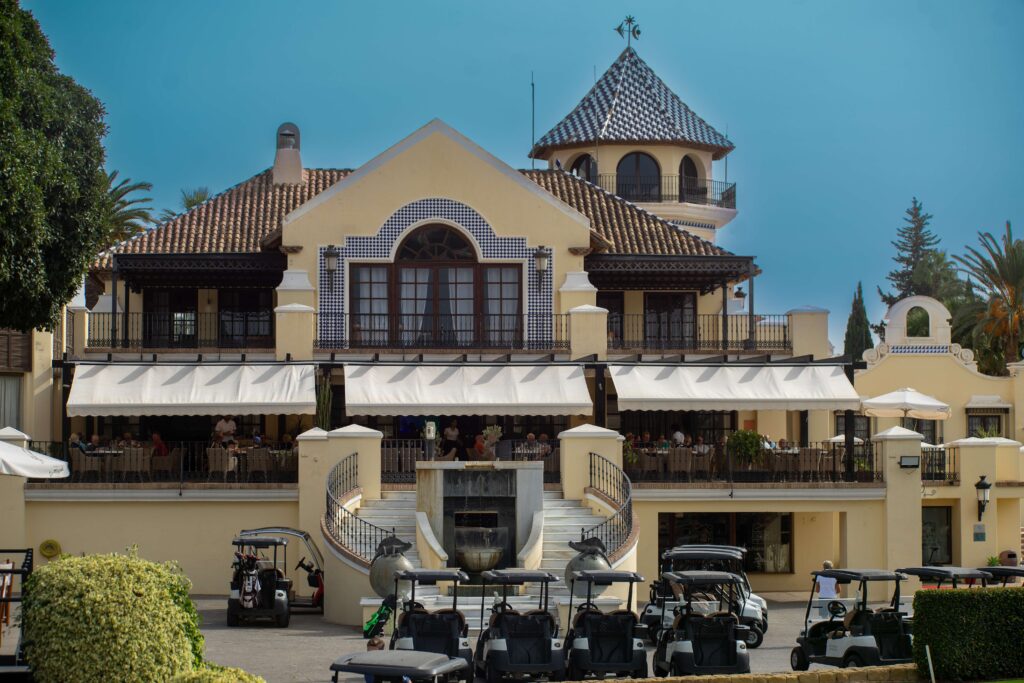 An express visit to Puerto Banús
After relaxing on the immense Los Naranjos Golf Club course, just a four-minute drive away you have one of the most exclusive areas in Europe. Puerto Banús is a marina that shines for its glamour, and you can enjoy a unique harbor atmosphere with the exuberant yachts. The walk is ideal to enjoy with your loved ones arriving at the Mirador del Muelle de Honor to enjoy unique views of the Lighthouse of Puerto Banús.
A magical walk through the historic center of Marbella
Marbella is located about 17 minutes' drive from Puerto Banús. It is a town that exudes beauty with its streets lined with traditional white houses in areas such as the Plaza de los Naranjos. It is located in the heart of the city, and its name comes from the orange trees that surround the Renaissance fountain that crowns the square.
Do you want to enjoy a stroll through one of the best areas of Marbella? This place transmits magic in each of its streets and is an ideal place to stroll discovering the old town dating from the fifteenth century. It consists of very narrow streets, traditional Andalusian houses with balconies full of flowers, and an atmosphere that will transport you to the Spanish golden century.
Zozoï, a restaurant crowned by a traditional Andalusian patio
This restaurant is located in the Plaza Altamirano, very close to the Plaza de los Naranjos. To get to the establishment, you will walk through the most beautiful streets of Marbella. Zozoï has an impressive outdoor terrace with an Andalusian-style interior patio that will leave you spellbound with its colors. Everything together conveys the southern relaxation making the experience even more attractive.
Its menu stands out for its original creative gastronomy and the use of fresh seasonal products. It is a culinary establishment that is in constant development, always incorporating new ideas to surprise diners.
Avenida del Mar, an open-air museum
To help you digest your meal, the Avenida del Mar is just five minutes away, and it is a spectacular open-air museum. If you are passionate about art, this venue will surprise you with 10 bronze sculptures designed by Salvador Dalí himself.
A dip in the Venus Beach
Once you finish with the Avenida del Mar, as if it were a balcony, you will be able to observe the promenade. If you walk straight to the sea, you will be able to see the idyllic picture of the Playa de la Venus. It is a beach with calm waters where you can rent a sun lounger and umbrella to recover your energy from your walks. After taking a dip, you can complete the afternoon by watching one of the best sunsets in the city.
Back to Puerto Banús to rest at the Hard Rock Hotel
Puerto Banús has a wonderful atmosphere at night with the hustle and bustle of bars and neon lights. For a well-deserved rest, the Hard Rock Hotel opens its doors with a modern and bold design. The rooms offer a really attractive dance of colors and have room service 24 hours a day.
For dining, this resort has Nu Downtown, a very distinguished gastronomic option. Its dishes are the result of an à la carte Asian fusion with live music and entertainment.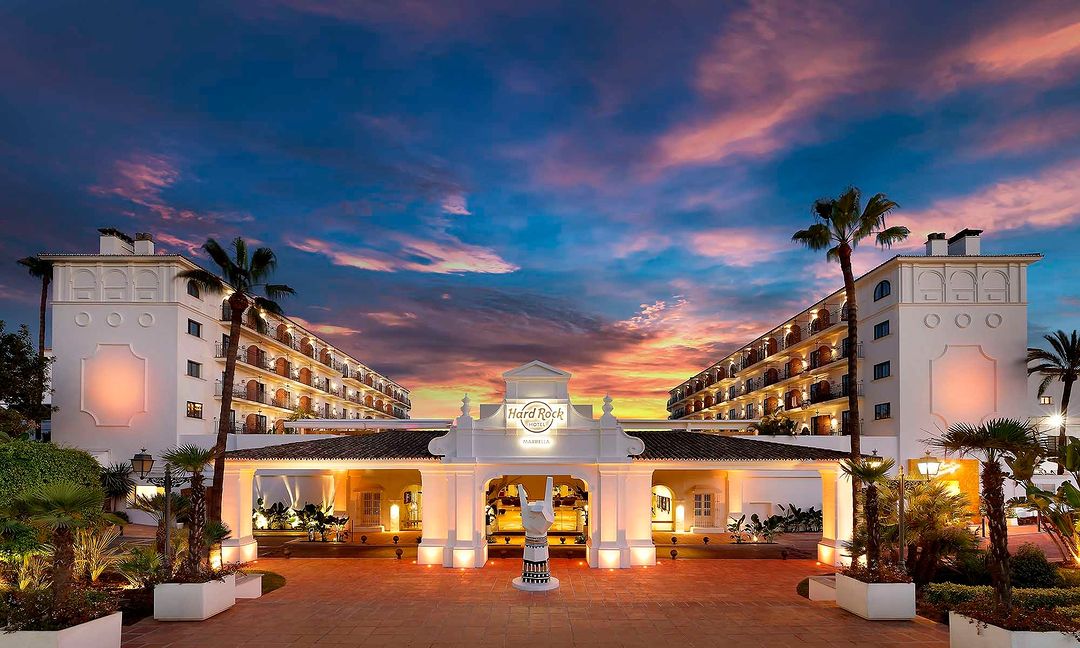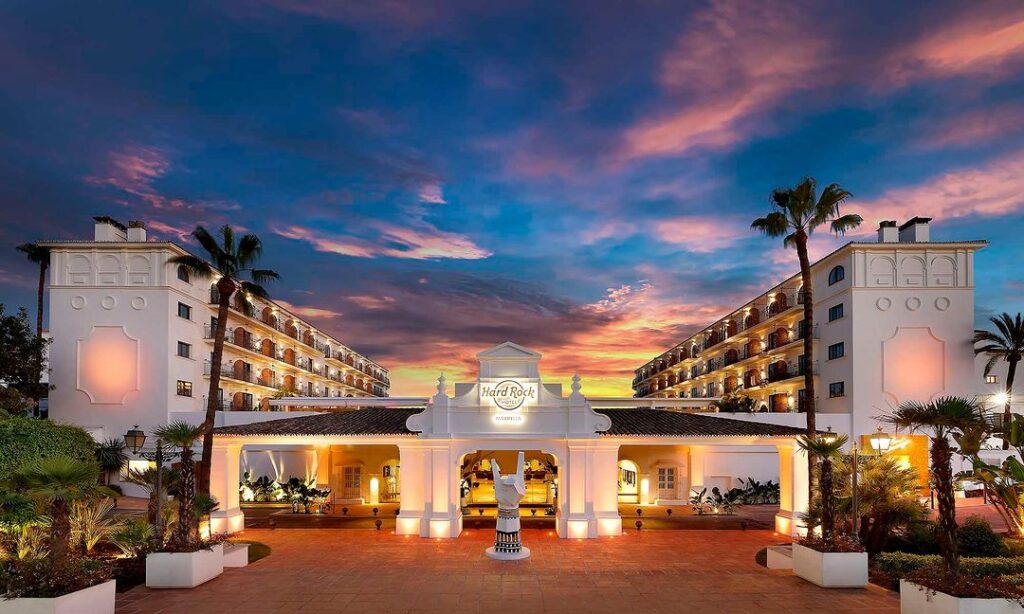 Looking for a massage that will leave you feeling like new? This hotel is an ideal option for you to start the next morning on the right foot thanks to the Rock Spa. This special section offers individual or couple massage sessions and facial treatments, among others. It's a perfect idea to come in good shape for the second golf session at Los Naranjos Golf Club.
Marbella is a city with endless options to have fun after a good golf session at Los Naranjos Golf Club. Its traditional Andalusian atmosphere and its gastronomy will make you want to come back every summer.