The Los Naranjos Golf Club is one of the best known golf courses on the Costa del Sol. It is not surprising, considering that it has unbeatable facilities to make visitors feel at home. However, not only does it have quality services, but it also offers tournaments of great fame such as the Los Naranjos Open. Are you passionate about the world of golf and want to show your skills in the Los Naranjos Golf Club? Don't miss what we have to tell you below.
Why is the Los Naranjos Golf Club so prestigious?
Golf, like any other sport, needs a passionate community and quality facilities. The Los Naranjos Golf Club maintains the perfect balance: an elaborate golf course with perfect facilities to offer players pure comfort, a community with an unbeatable sporting atmosphere and an exquisite gastronomy to recover your energy.
It also offers very interesting tournaments such as the Los Naranjos Open (held in August) or the Ladies Summer League that takes place every Wednesday in June and July. A magnificent event to increase the renown of women's golf at an international level.
The Los Naranjos Open, the most awaited event of all August
The Los Naranjos Golf Club works tirelessly to offer visitors challenging and fun activities. On Friday, August 18, the Los Naranjos Open takes place, a tournament that offers three categories with three qualifiers along with a Scratch Prize and Best Lady Prize. In addition, it has these other particularities:
Two shotguns, one at 8:45 and one at 14:15.
There will be an awards ceremony (as in other events) with cocktails and raffles. It is a way to immerse the players in a relaxed atmosphere after the game to establish new friendships and contacts.
A refreshment tent will be available for players to stock up and recover their energy. The tent will be available to players at all times.
A bye-bye pack so that all players can finish the tournament in the best way.
The Los Naranjos Open 2022 Winners
The Los Naranjos Open is a tournament that accumulates very good results and that is why it renews its edition this year (2023). To give you an idea, the winners of the last edition were the following:
1st category: Ignacio Bernaldo de Quirós Loring.
2nd category: Fabian Wincrantz.
3rd category: Pablo Blanco Juárez.
Scratch: Ignacio Bernaldo de Quirós Loring.
One of the particularities of the Los Naranjos Golf Club is that, through its tournaments, it promotes the presence of women in golf. That is why it has a women's category. Below, you can see last year's winner of the women's tournament:
Female category: Patricia González Artiach.
Sponsors of the Los Naranjos Open
Sponsors are a fundamental part of the tournament because they provide an unbeatable atmosphere and incredible prizes. This year the Los Naranjos Open has two sponsors in this edition:
Boho Club: It will be present throughout the event, awarding the winner of the first category with a special prize.
San Miguel: In charge of sponsoring the Longest Drive and Nearest to the Pin awards, San Miguel will offer all players (after the tournament) beer to keep them refreshed.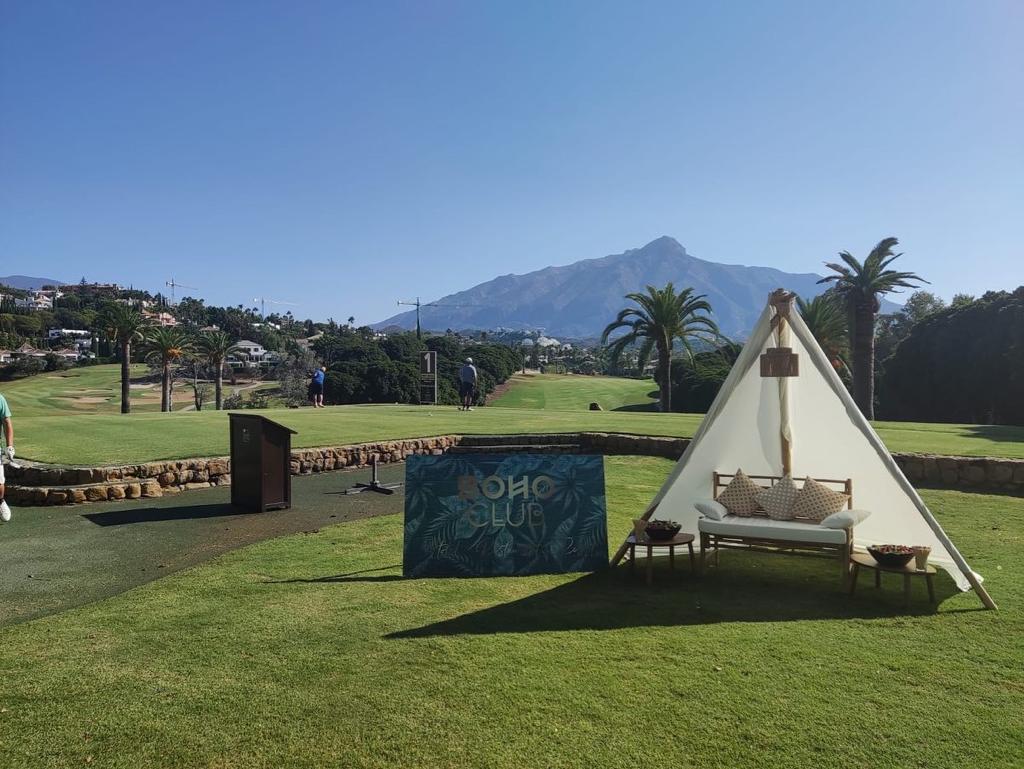 The Los Naranjos Golf Club is one of the major references of this sport on the Costa del Sol and it is not surprising, taking into account its excellent planning of tournaments.