Hacienda Los Naranjos Restaurant
Gastronomy and Golf at Los Naranjos Golf Club
Hacienda Los Naranjos is a restaurant where you will feel instantly at home with it´s wonderful welcoming atmosphere. You will find a strong sense of desire for detail and delicious dishes, as the Hacienda Los Naranjos fuses a popular international menu with Scandinavian flavors.
After playing 18 holes at Los Naranjos Golf Club, the Hacienda Los Naranjos restaurant is undoubtedly the best place to end the day. 
Book your table:   (+34) 952 63 91 11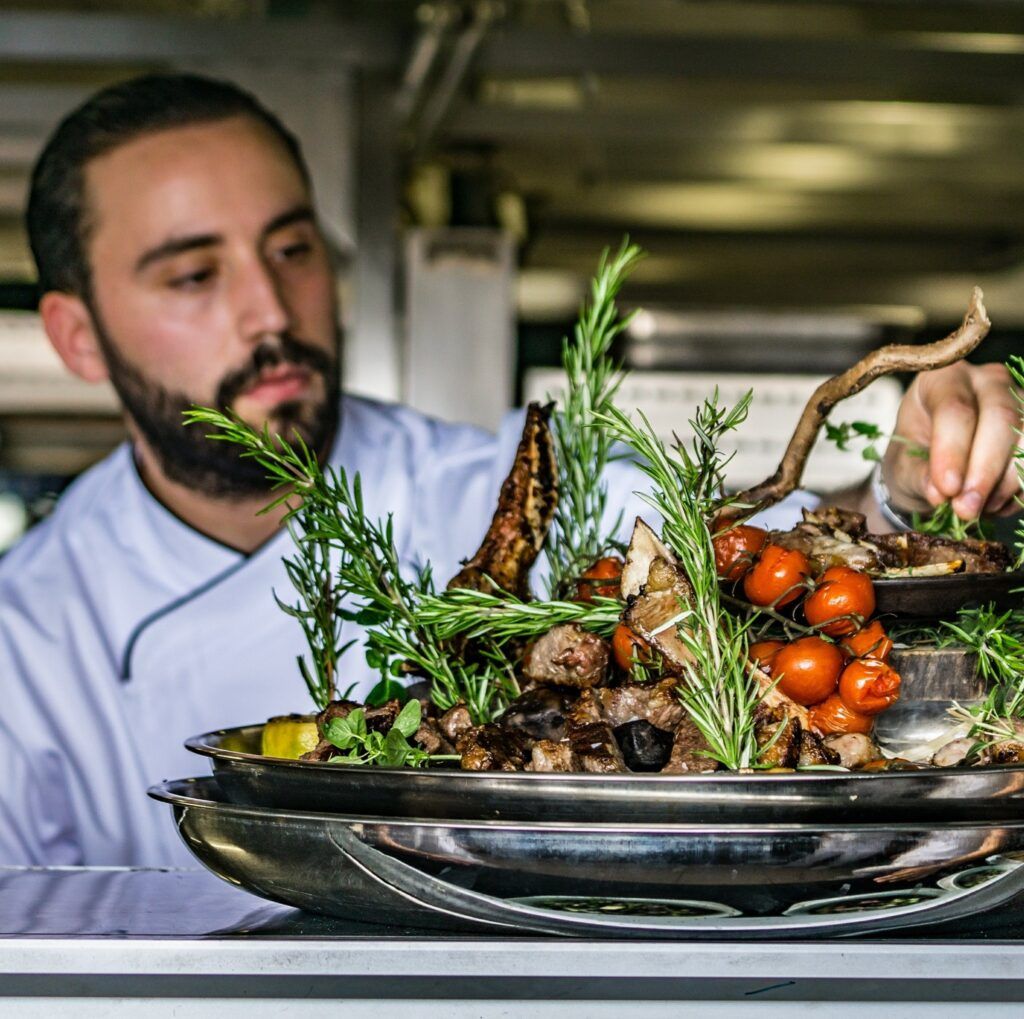 Geoffrey Sacchi, French Head Chef at Hacienda Los Naranjos
"I grew up with my hands in the land, growing vegetables with my grandfather. When I cook, I try to bring that spirit from home," he explains. "I'm sure most people agree that our grandmother's cooking was always the best."
Having received his training at the prestigious Lycee Paul Augier in Nice and studied the techniques of celebrated French Chefs such as Joël Garault of the Hôtel Hermitage in Monte Carlo. Geoffrey's illustrious career has taken him around the world, from Dubai to Spain and Ireland, where he perfected his craft.
"One of the most important things I learned from my upbringing, my travels, my experiences and my education was to respect seasonal products and to work with nature. I cook what is in season and by doing so I take care of the environment."
fusion of flavors on your menu
A fusion of national cuisine with Scandinavian recipes offers an exciting palate of flavours. Menus are packed with seasonal delights, from light bites to full meals, fresh salads, comforting pasta dishes and wild fish. "Catch of the day" all appear regularly on the menus at Hacienda Los Naranjos.
La Hacienda Food & Golf is based on international cuisine with Scandinavian influences. It has been adapted to the needs of club members. Likewise, this kitchen invites any visitor to come and enjoy these fabulous facilities.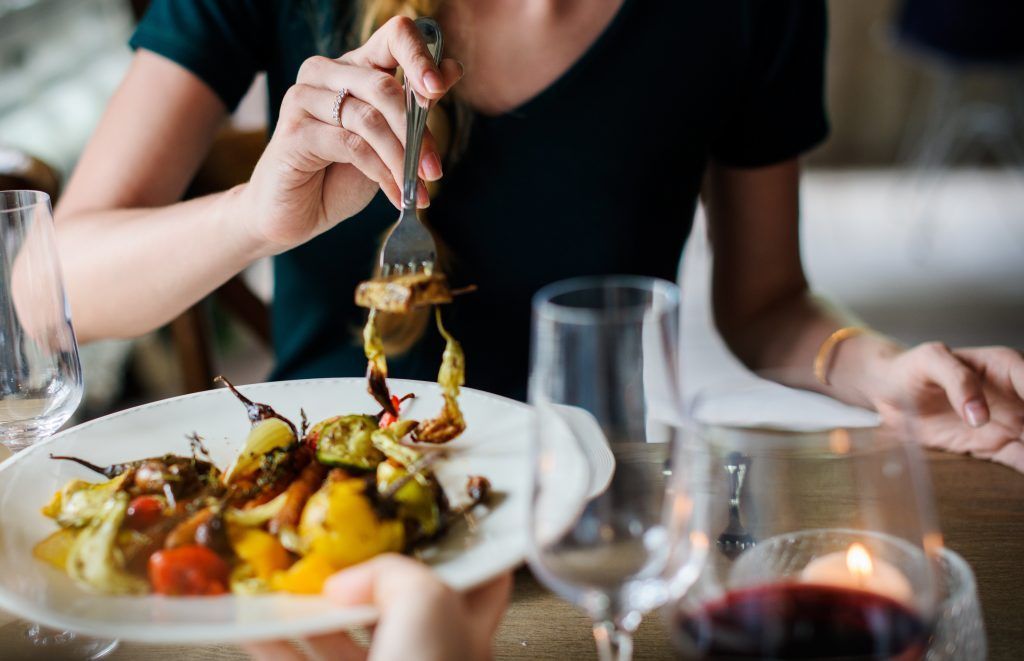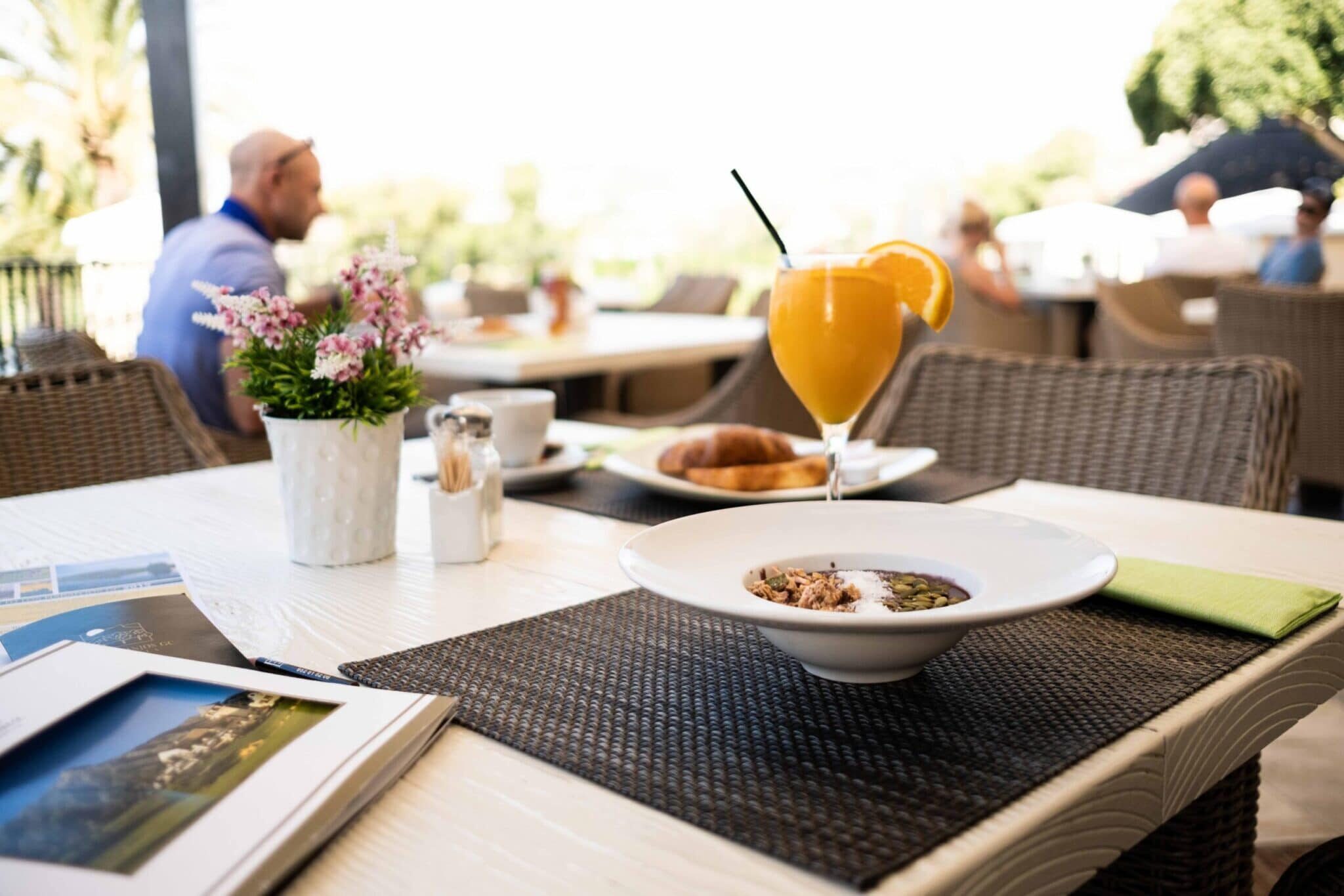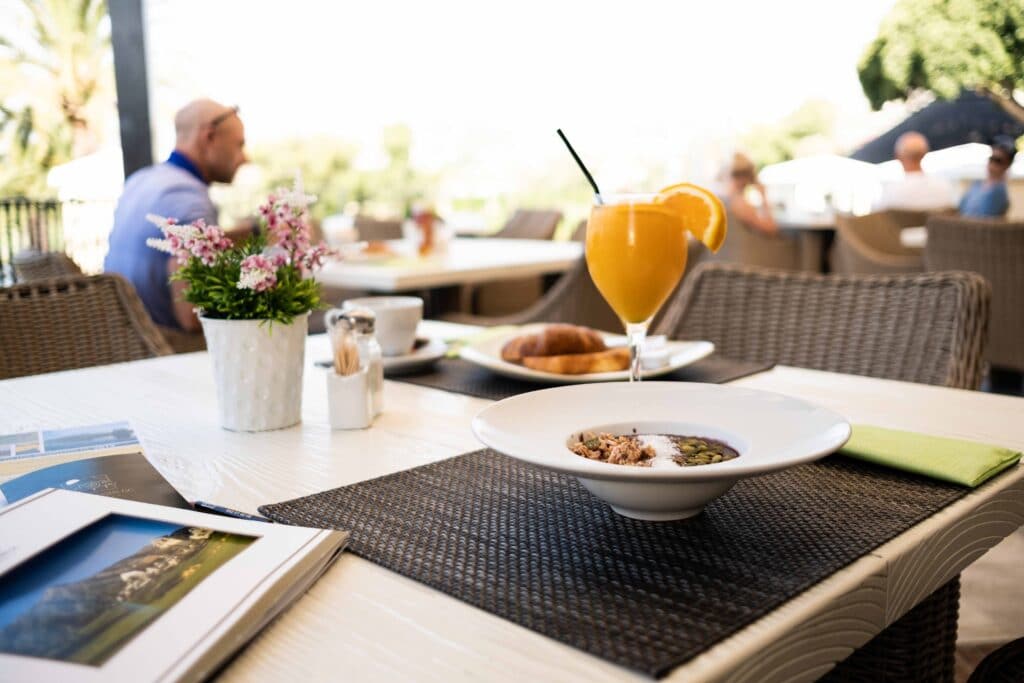 Facilities
In this fantastic restaurant you can enjoy its large terrace with sensational views, Marbella´s 300+ days of sun per year. It also has a beautiful interior room decorated with wooden furniture imported from Indonesia. Additionally, it has an extensive snack service especially designed for golfers. The snack is offered throughout the day. Quality burgers, tasty club sandwiches and the Scandinavian touch of gravlax are among the most popular snacks. The restaurant also has two new storage tanks that offer fresh beer free of external agents and CO2 (in simple terms this means the beer tastes amazing!!)
Private events
Both in the restaurant room on the ground floor and on the upper floor with its two roof terraces with views of Los Naranjos Golf Club, wonderful private events can be held. A gala evening, a business meeting, networking, or the happiest day of your life with a wedding in an unforgettable setting.